CLICK ON THE NAME OF EACH EVENT BELOW FOR MORE DETAILS!
Thursday, September 20th – Saturday September 22nd
Colorado Convention Center – Denver, CO
The biggest beer festival of the year, which includes the most prestigious beer judging competition.  We'll be pouring Sublime Mexican Lager, San Diego Pale Ale .394, IPA, Nut Brown, and Vietnamese Speedway Stout.  All proceeds go to support the non-profit Brewers' Association.
Saturday, September 22nd
Broadway Pier – San Diego, CA
San Diego's longest-running beer festival!
Friday, September 28th
Petco Park – San Diego, CA
Your last chance to get $5 specialty pours of AleSmith beer at Petco before a Padres' game.  A super fun and lively way to begin any night at Petco.  Bound to be one of the last home games of the season too.
Sublime Secret Walls Live Art Battle
Saturday, September 29th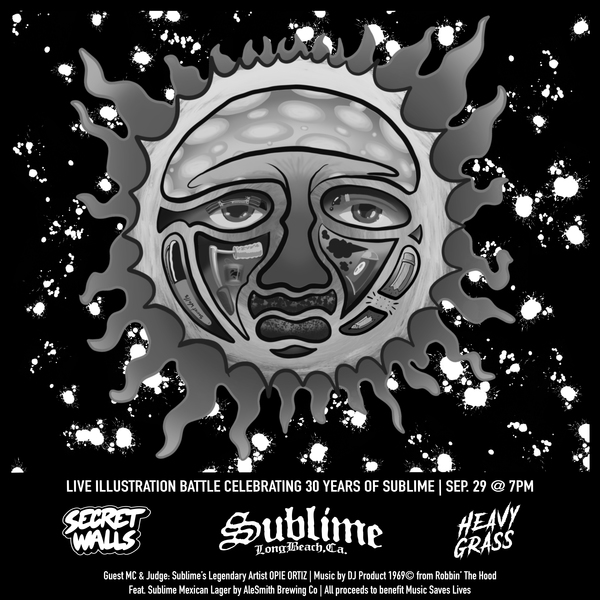 START – Los Angeles, CA
Sublime has teamed up with Secret Walls and Heavy Grass to host a live-illustration battle in celebration of the bands 30th anniversary! Two curated teams of three artists, armed solely with black markers or acrylic paint, will go head-to-head to see who comes up with the sickest freestyle Sublime-themed art in just 90 minutes. Sublime's legendary artist, Opie Ortiz, will be there as a guest MC & judge. On the turntables from Robbin' The Hood, DJ Product 1969©! AleSmith's Sublime Mexican Lager will be featured along with Huitlacoche food truck and more, all while celebrating #Sublime30th. This is a FREE, 21+ event. Space is limited so first come, first serve. Donations are welcome and all proceeds will go to Music Saves Lives.
Bayside Brew and Spirits Festival
Saturday, September 29th
Pepper Park – National City, CA
A fun and low-key festival supporting communities in the South Bay of San Diego.  A great chance for our fans in National City and Chula Vista to drink some of our beers and talk with a brewery representative.
Sunday, September 30th
Mountain Vista Dr. – Encinitas, CA
In it's 23rd year, this is one of San Diego's liveliest Oktoberfest celebrations.  This year it will feature local craft beer options, and we're honored to be on the short list as an available brew!
16th Annual Celebrate the Craft
Sunday, October 28th, 11:30am-3pm
The Lodge at Torrey Pines – La Jolla, CA
The Lodge at Torrey Pines presents one of Southern California's premiere food festival created to showcase regionally grown ingredients, the finest chefs, food artisans, wine and craft beer. A portion of the proceeds of will be donated to Slow Food Urban San Diego.